L'anell de prometatge - Angelina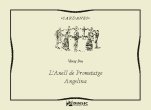 18.75 € VAT not included
19.50 € VAT included
Notice (8): Undefined variable: audio_files [APP/views/publicacions/display.ctp, line 447]

Contents
Vicenç Bou i Geli (1886-1962) was a musician from Torroella de Montgrí who wrote sardanes with great fluency but little musical sophistication. A stream of music pouring out, with no great subtlety. But this elemental quality to his music is not synonymous with simplicity.
'L'anell de prometatge' (The Engagement Ring) from 1913, is one of those compositions with a very basic concept, which for this reason is highly revealing. From start to finish there are only three tonal chords. Rhythmically, the 'tots-som-pops' basic sardana beat, alternate with a polka beat.
His strength, that which makes him decisive in the history of popular music, is his melodic beauty, able to communicate profoundly and, above all, fresh and spontaneous. Bou sings as if he were improvising on a highly personal language. In the short notes of 'L'anell de prometatge', in the central song 'Angelina', we see the melody flowing like a lively breeze over a more or less stable harmony.
The author does not develop themes: often he hardly returns to them. His is a constantly changing melodically inventive discourse, in which the overall sense of the piece comes, at best, from the rather careless repetition of the melodic or rhythmic motifs on which he improvises.
We know that the songs people sing today belong to another tradition, and that probably there are few spaces left for the sounds of Bou's sardanes. But we also know that his exotic melodies are testimony and guarantee of our authentic personality within a globalising world. So we should learn to savour them. So we should interpret them.
Instrumental and vocal formations
Cobla
Instruments
Double Bass
,
Baritone Horn II
,
Baritone Horn I
,
Trombone
,
Trumpet II
,
Trumpet I
,
Tenor Shawm II (Tenora II)
,
Tenor Shawm I (Tenora I)
,
Soprano Shawm II (Tible II)
,
Soprano Shawm I (Tible I)
,
Small Drum
,
Double Bass
Structure
Two sardanas for cobla:
- L'anell de prometatge (The Engagement Ring)
- Angelina
Technical Specifications
Measurements
21,6 x 16 cm, horizontal
Binding
Full score stapled. Score and parts inserted in the cover.
Number of Pages
30
Number of parts
11
Number of Pages of Parts
22
Editor
DINSIC Publicacions Musicals
Also collaborating:
Comentator
Jordi Lara
Cover Designer
Clara Rochera