The seven last words of our Lord Jesus Christ (OM)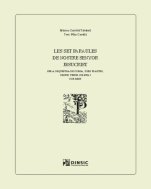 500.00 € VAT not included
605.00 € VAT included
Notice (8): Undefined variable: audio_files [APP/views/publicacions/display.ctp, line 447]

Contents
A work dedicated to the members of the Choir of Santa Cecilia in Mataró, and intended to enhance the sermon on the Seven Last Words traditionally delivered during Holy Week services, it being a musical commentary on the sermon.
Written for string orchestra, two flutes, organ, tenor soloist and choir, and divided into nine sections: prelude, the seven words, and a symphonic epilogue. Text in Latin.

RENTAL MATERIALS
Structure
Full score.
Parts:
First Violins (20 pages), Second Violins (20 pp.), Violas (16 pp.), Cellos (20 pp.), Double Basses (16 pp.), First Flute (16 pp.) and Second Flute (12 pp.).
See the miniature-score version of the full score (Pocket Score Collection, vol. 1).
See the vocal score for the choir and soloist with a piano (or organ) reduction in the Catalan Choral Music Collection (vol. 8).
Technical Specifications
Duration
30'
Measurements
26 x 33 cm, vertical
Binding
Spiral-bound score
Number of Pages
178
Number of Pages
94
Number of parts
7
Number of Pages of Parts
84
ISBN
xxxxxxx
Editor
DINSIC Publicacions Musicals
Also collaborating:
Engraved
Enric Cristòfor Ricart
Poem
Fèlix Castellà
Other format of this publication