Mètode de gralla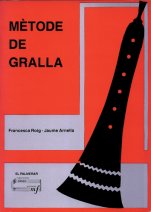 16.54 € VAT not included
17.20 € VAT included
Notice (8): Undefined variable: audio_files [APP/views/publicacions/display.ctp, line 447]

Contents
(Gralla Method)
-Historical information
-The instrument
-Chirimia method: counting-DA and DA-LI / Two notes with the chirimia: C and D. How to blow / Two more notes: B and E / Rests- ligature / Another note: A / Meter / F and G / Semiquavers: DA-LI-QUE-LI. Low G / The dotted note - the triplet / Summary - repeat signs / Another base for beats/counting. Compound time signatures / Accidentals - F sharp. B flat and E flat / The high octave - G and A / G sharp / A flat / D sharp / E flat / C sharp / The highest notes / Fingering chart for the chirimia.
-Music: Bailes de bastones ( baton dances), La Patum, El Penedès, Valls, D'arreu, Moixigangues.
-New melodies and points.
-Making one's own reeds.
Technical Specifications
Measurements
17 x 24 cm, vertical
Binding
Paperback
Number of Pages
96
ISBN
84-86949-11-4
Editor
DINSIC Publicacions Musicals
Also collaborating:
Cover Designer
Anna Bassó Sumoy