Iniciació al teclat 3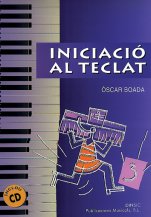 17.50 € VAT not included
18.20 € VAT included
Notice (8): Undefined variable: audio_files [APP/views/publicacions/display.ctp, line 447]

Contents
14 pieces (folk songs and small author works) in which the theoretical contents and their practical application are presented).
Compilation of the contents that have appeared in the previous books as well as:
-Tonalities: C major, F major, D major, A major, A minor, G major.
-Minor scales: natural minor, harmonic minor and melodic minor.
-Augmented 4th interval: the Diabolus in musica.
-Pentatonic and hexatonic scales.
-The tango.
Technical Specifications
Measurements
21 x 29,7 cm, vertical
Binding
Spiral-bound
Number of Pages
53
ISBN
84-95055-44-9
Editor
DINSIC Publicacions Musicals
Also collaborating:
Cover Designer
Mateo&Solano
Illustrator
Nausica Martínez