L'or del Rin (Das Rheingold)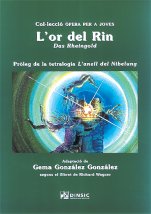 25.48 € VAT not included
26.50 € VAT included

Notice (8): Undefined variable: audio_files [APP/views/publicacions/display.ctp, line 447]

Contents
(The Rhinegold).
An adaptation of the opera´s libretto in the form of a story with a listening guide and a CD containing 22 excerpts. The most important leitmotivs are studied with the aid of the excerpts for listening, the score extracts in the book, and the colour diagrams for students who have limited skill in reading music.
Structure
The work
The composer
The excerpts (score)
Leitmotivs (summary chart)
Information on the recorded version used
Bibliographic references
Technical Specifications
Measurements
21 x 29,7 cm, vertical
Binding
Paperback. Plastic-coated cover.
Number of Pages
140
ISBN
84-95055-66-X
Editor
DINSIC Publicacions Musicals
Also collaborating:
Illustrator
José Fernández Tauste